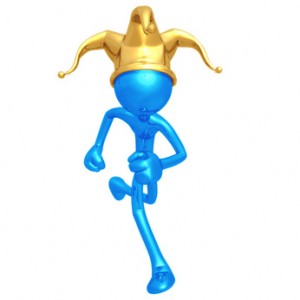 Thinking of pulling a digital prank on a friend on Facebook or Twitter this year? Possibly breaking up with your beau in a text message? Going to fake quitting your job today?
As much as I enjoy humor any day of the week and a harmless prank, think twice before posting your prank on the Internet. It's time to follow the rules of netiquette.
Even if you're kidding and love your job, you'll be creating a permanent digital footprint that sometimes just can't be erased. Those tweets can be clickable links on Google and can be forwarded everywhere and become viral.
To protect your digital reputation, if you must be a jester on April 1st, kid around with your friends and family in person and not the Internet. Make sure you let them know it's an April Fool's joke right away so you don't harbor upset feelings that can get out of hand.
So if you're worried about becoming an April Fool, here are some things to remember.
Twitter – Check your tweets and @mentions a little more frequently than usual. Plan on deleting a large group of followers? Don't rush into it as gaining them back all at once might be a red flag that you're a spammer and the joke will be on you.
Facebook – Make sure the class clown isn't tagging you in unflattering photos. Set your privacy settings to notify you instead of coming home to a wall you wish didn't exist.  If so, untag yourself as soon as possible. Going to un-friend your best friend? Don't be hasty as you'll have to request permission
Blogs – Monitor your comments on your blogposts if they aren't moderated and beware of the jokester in your life.
Emails – Any suspicious emails with outrageous stories should be taken with a grain of digital salt.
Texts – Don't cancel a date or appointment or end a relationship on a text message as a joke. You might think it's funny and your loved one might permanently delete you if he or she isn't laughing.
Remember, even if you quickly delete your digital April Fool's message, it may be cached and stored on multiple servers. It's shelf-life will last a lot longer than the original prank, so remember the basic rules of netiquette. At the end of the day, you want to treat others the way you want to be treated.
Julie Spira is the author of The Rules of Netiquette: How to Mind Your Manners on the Web. Visit her at netiquetteexpert.com. Like her on facebook at facebook.com/rulesofnetiquette